The Director
Vilsoni Hereniko was born in the village of Mea, Hapmak, Itu'ti'u District on October 13, 1954. He is the youngest of eleven children born to Hereniko Hapati and Reui Olovie. Hereniko received his schooling in Rotuma before winning a scholarship to complete his secondary education in Fiji at Queen Victoria School. From there he went to the University of the South Pacific where he graduated in 1977 with a Bachelor of Arts degree and a Graduate Certificate in Education. Hereniko was then awarded a Commonwealth scholarship to study drama-in-education at the University of Newcastle-upon-Tyne in England, where he completed a Masters degree in Education.
It was while at the University of South Pacific that he started writing plays; his work immediately became widely produced and popular throughout the Pacific, notably Don't Cry Mama, A Child For Iva, Sera's Choice and The Monster. It was also during this time that Hereniko experimented with film, making a documentary, The Rotuman Clown.
In 1991, Hereniko was awarded a PhD by the University of the South Pacific. The same year, he joined the faculty at the Center of Pacific Island Studies at the University of Hawai'i where he is currently a full professor, teaching literature, theater and film.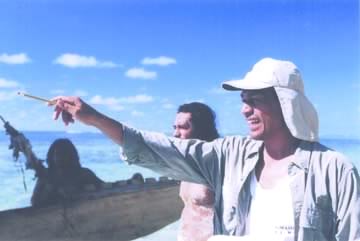 Vilsoni Hereniko directing the brothers in the opening myth scene of The Land Has Eyes. The paddler is Mareko Tomnikoveu from Rotuma
While in Hawai'i Hereniko continued to write plays, several have been produced internationally including The Last Virgin In Paradise and Fine Dancing. He also published extensively, including a book based on his doctoral research titled Woven Gods and an illustrated children's book about the legend Sina And Tinilau. In 1997 he was presented the prestigious Elliott Cades Writing Award for his "significant body of work of exceptional quality."
Serving on the jury and the selection committee of the Hawai'i International Film Festival gave Hereniko an opportunity to witness the most outstanding film works coming out of Asia and the Pacific. A desire to visually express his original stories, Hereniko evolved into making films himself, shortly after marrying Jeannette Paulson, Founding Director of the Hawai'i International Film Festival. Together, they established a film production company, Te Maka Productions, and produced a short film, Just Dancing, based on his play, Fine Dancing. Soon thereafter, Hereniko won the Hubert Bals Fund award (International Film Festival Rotterdam) to write what would become the first film from Fiji – The Land Has Eyes. This film is Hereniko's feature debut.
Director's statement: A story has the power to transform people's lives.
Growing up on Rotuma, Fiji, I was filled with stories about the island, Greek mythology and the Bible, which nourished me with inspiration and hope. I see myself as a storyteller who recognizes that film is the most powerful medium for telling a story, a medium that has historically not been accessible or available to Pacific Islanders.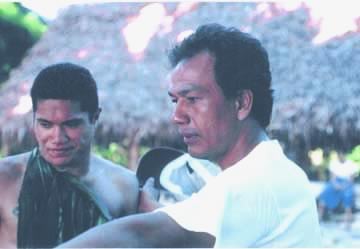 Vilsoni Hereniko directing Moriki Tigarea, who plays Pili, Viki's brother, in the film
In making this film, I was faced with great obstacles. However, if I know that fellow Pacific Islanders realize they too can be producers of their own images as a result of this work, I will feel that every challenge will have been worth it.
It is my hope that audiences everywhere will not only be entertained by this story, but will walk away with a precious sense about Rotuma, its culture and its people. More than ever before, may we all recognize that we need the wisdom of our ancestors. With this film, I want to express the ancient Rotuman belief that: