Production
Production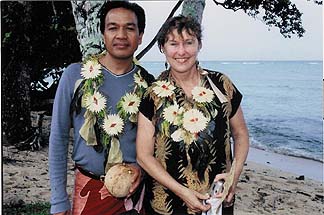 Vilsoni Hereniko and Jeannette Paulson Hereniko on Rotuma
ROTUMA
Nine miles by two, Rotuma is an isolated island in the South Pacific, inhabited by 2,500 Polynesians who speak a distinct language. Rotuman culture shares many similarities with the rest of Polynesia - Tonga, Samoa, Hawai'i and Aotearoa (New Zealand). However, Rotuma is politically part of Fiji: From 1881 to 1970, Rotuma was a colony of Great Britain, administered from Fiji. When Fiji became independent of Great Britain in 1970, Rotuma opted to remain under Fiji's jurisdiction. For more information about Rotuma, go to the Rotuma Website.
IT TAKES A VILLAGE
Vilsoni Hereniko grew up in Rotuma until he was 16 when he left for Fiji to further his education. In 1999, while a professor at the University of Hawai'i, Hereniko returned to Rotuma to discuss with the islanders his dream to make a feature film, The Land Has Eyes, a story he wrote that is loosely based on his life growing up in Rotuma. Hereniko went from village to village to tell the story and to receive their permission and blessing to film it there. The people of Hapmak warmly embraced their native son and promised to be his partners in producing the film. For a year, they cleared land and built a set with homes, a community hall, a traditional boys' house and a garden for Viki, protagonist of the story.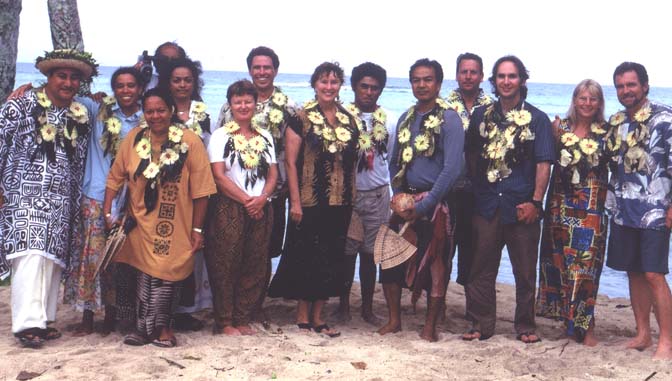 The Crew on Location in Rotuma
(from left to right) Hupfield "Huppie" Hoerder, Production Designer and Make-up and Hair Stylist; Esther Figueroa, grip and stand-in; (in front) Anona Napolean, assistant to crew; (in back) Nancy Ratana, script supervisor; Joseph "Nappy" Napolean (with camera), canoe paddler coach; Sally Ingelton, line producer; Brandon "Boom Boom boy" Ledward, boom operator; Jeannette Paulson Hereniko, Producer; Mato Henare, gaffer; Vilsoni "Vili" Hereniko, director and writer; Jim Davenport, assistant director; Mark Atkins, camera assistant; Grace Niska Atkins, sound recordist; Paul Atkins, director of photography.
---
In the summer of 2000, with a crew of 14 from Hawai'i, New Zealand, Australia and California, Hereniko returned to Rotuma to direct the first feature film ever to be made in Fiji by a native. The village of Mea turned the Hereniko family home into a production headquarters. Because there are no hotels or restaurants in Rotuma, the villagers arranged for each crew member to be assigned to a family, who housed and fed them.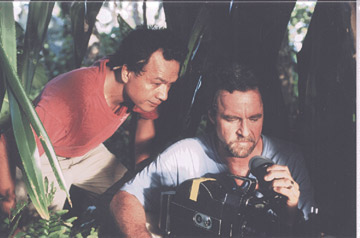 Vilsoni Hereniko sets up a shot with Director of
Photography, Paul Atkins
photo credit: Grace Niska Atkins
Ninety-eight percent of the cast are Rotumans who have never acted before. In fact, most have never been inside a movie theater since there is none on the island. But because the script depicts a story so similar to their real lives in Rotuma, their performances are very convincing. The notable exception to Rotuman casting is the internationally acclaimed Maori actress, Rena Owen (Beth in Once Were Warriors) who plays the Warrior Woman. Mr. Clarke, the British judge, is played by Hawai'i actor James Davenport, who also served as the film's Assistant Director.
When it was time to film the wedding, the funeral and the farewell scenes, the villagers spent days preparing a feast to feed the crowds of Rotuman actors and the crew. At the end of the filming, villagers prepared another spectacular feast complete with original new songs and dances in honor of the departing crew. The crew knew Rotuma was spectacularly beautiful, but even more beautiful and memorable were the Rotumans themselves.
---
Major funding for The Land Has Eyes came from the Pacific Islanders in Communications. Pacific Islanders in Communications is a national nonprofit media group established primarily to increase national public broadcast programming by and about indigenous Pacific Islanders.
---
Running time: 87 minutes
Writer/Director: Vilsoni Hereniko
Producers: Jeannette Paulson Hereniko, Corey Tong, and Vilsoni Hereniko
Print Source: Te Maka Productions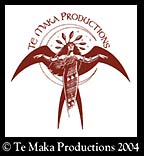 Jeannette Paulson Hereniko, Producer
1288 Ala Moana Blvd Apt 8E
Honolulu, Hawaii 96814 USA
telephone: (808) 398-0490
jphmovies@gmail.com
---
Crew Bios
Jeannette Paulson Hereniko
Producer
Jeannette Paulson Hereniko has been involved in television and film for over 30 years, starting as a television producer/writer in Oregon and Hawai'i. She is the founding director of the Hawai'i International Film Festival, launching it in 1980 and serving as its Director until l996. In l990, she became the first Director and Programmer of the Palm Springs International Film Festival. In l994 Paulson Hereniko established NETPAC/USA, a non-profit organization dedicated to promoting the appreciation and distribution of Asian and Pacific films in the United States. She became the Director of the Asia Pacific Media Center at the University of Southern California's Annenberg Center in l996. Paulson Hereniko is currently the President and Chief Executive Officer of Te Maka Productions Inc. and NETPAC/USA .
Corey Tong is an independent film producer and chief creative executive of Makai Motion Pictures in Hawai'i and of Pacific FilmWorks (PFW) in Hong Kong. Originally trained as an architect, Tong served as Director of Special Projects for IFFCON's Asia-Pacific Partnership and Director of the San Francisco International Asian American Film Festival. He has programmed and worked with Frameline, San Francisco International Film Festival, ArcLight Cinemas Hollywood, Forum des Images (former Videotheque de Paris) and DGFK e.V. Arts Foundation in Berlin, and released Babak Shokrian's film America So Beautiful in Southern California. Tong was born and raised in Hilo, Hawai'i, and has also lived in Tokyo, Jerusalem and New York. Now based in San Francisco and Hawai'i, his new feature projects include Hawai'ian Wedding and Plato's Revenge.
---
Merata Mita
Executive Producer
Merata Mita belongs to the Ngati Pikiao and Ngai te Rangi Iwi of the Maori people and was born and reared in a small, traditional Maori community in Maketu, New Zealand. She has been involved in film and video production for over twenty years, and has made significant inroads for indigenous filmmakers, both in Aotearoa and globally. Her eye for detail and passionate commitment to her work offer rare insights into people whose paths we are unlikely to cross. Mita's documentary films include Patu!, Bastion Point, Day 507, Waka, Rapanui, Dread, The Shooting Of Dominick Kaiwhata, and Hotere, which have screened throughout the world. Mauri, her first dramatic feature, investigates themes of birthright and racism in its story of a troubled man who returns to an isolated North Island settlement. Mita has also appeared as an actress in Geoff Murphy's historical drama Utu and most recently produced Murphy's feature film Spooked. She is currently writing a new feature project Cousins which she will direct in 2004.
---
Paul Atkins
Director of Photography
From Antarctica to the tropical Pacific, Paul Atkins has passionately made films for 20 years about the world's cultures and its wildlife. His internationally acclaimed cinematography has won numerous Emmys and British Academy Awards and has been featured on National Geographic, the BBC, NBC, ABC and PBS, as well as in theatres. Atkins' diverse body of work ranges from the documentary Dolphins, an Academy Award nominated IMAX film, to the indie feature Night Orchid, a southern Gothic suspense thriller. He lives in Hawai'i where he also directs and produces documentaries with his Emmy Award-winning wife, Grace Niska Atkins. Recently, he filmed the extraordinary Cape Horn storm footage for Peter Weir's Master And Commander: The Far Side Of The World, and has just returned from filming in Chile with Cameron Diaz.
---
Editor
Jonathan Woodford-Robinson
Editor of feature films and documentaries in New Zealand, Jonathan Woodford-Robinson was also one of the editing team on The Lord Of The Rings and King Kong and is currently editing Taika Waititi's (director of Oscar nominated short film Two Cars, One Night) first feature film.
Clive Cockburn is a composer, arranger and producer of film and television soundtracks who began his music career as a classical pianist before becoming a guitarist and keyboardist for various groups. He has won numerous international awards and is a three-time winner for "Best Original Music" of New Zealand's annual film and television awards.
---
Music
Audy Kimura
Audy Kimura is among Hawaii's most accomplished singers and composers. Although most widely known for his state-wide #1 hit "Lovers & Friends", he has composed seven national TV commercial tracks in Japan including 7-Eleven, NEC, Toyota Homes and FM-Yokohama among others. His national awards include the U.S. International Film & Video Festival Gold Camera, Telly and Hometown Video Festival In Hawaii, Kimura has earned eight "Na Hoku" awards including "Single of the Year", "Song of the Year" and "Male Vocalist of the Year". The "Na Hoku" awards are the highest prize given to Hawaii entertainers.